The Company
About Ceramic Seals Limited
Ceramic Seals Limited is an independent Company dedicated to the manufacture of a comprehensive range of quality ceramic-to-metal seals, sapphire-to-metal seals and related products.
Formerly a division of Ferranti International plc, world leaders in this specialised technology, Ceramic Seals Limited offers over 40 years experience in design and manufacture of ceramic-to-metal seals for operation in ultra-high vacuum, high pressures and at extreme temperatures.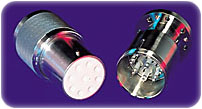 Our product ranges include Electrical/Fluid Feedthroughs, Isolators, Cable Terminations, Sapphire/Quartz Lenses and Windows, all specifically designed and produced to meet the demands of, amongst others, the Vacuum, Nuclear, Electrical, Aerospace and Defence industries.

Quality
The Company is certified to AS9100C and BS EN ISO 9001:2008 and is committed to maintaining a high level of quality in every aspect of its activities. When required, Certificates of Conformance can be supplied and full traceability is available from raw material to finished product. Control of the manufacturing process is supported by a well-established computerised system.
The Company's commitment to quality is evident at all stages from procurement through manufacturing, testing and customer service, with careful monitoring to comply with documented specifications.
Design
With over 40 years experience in this specialized technology, we are able to offer a complete service ranging from assistance with custom designs to the provision of a wide range of standard seal assemblies.
At Ceramic Seals Limited we are able to offer solutions to customer design requirements from simple catalogue product modifications to complex design projects. Contact Ceramic Seals Limited and tell us about your design requirements.