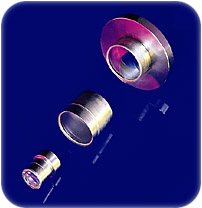 The rugged construction of our hermetic sapphire/nickel-iron viewports allows repeated high temperature bake-out with ultra high vaccuum (UHV) performance, whilst the sapphire lens offers broadband optical transmission from infrared through visible to ultraviolet light.

Custom built assemblies
Customers who may have particular requirements for special materials, dimensions, configurations and transmission characteristics should contact our technical staff for assistance.

In addition to our standard viewports, sapphire lenses with metal housings can be supplied for applications where hermetic to metal seals are required.

Single crystal sapphire (M.P. 2040°C) possesses a unique combination of excellent optical, physical and chemical properties. Sapphire retains its high strength at extreme temperatures has good thermal properties and excellent transparency. These properties are ideal for use in hostile environments.

Optical Transmission Graph and Operating parameters can be found on the next page.