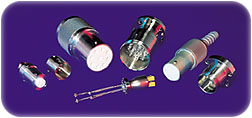 There are many situations where it is necessary to introduce multiple low-level drive and signal circuits into a vacuum system. This can be conveniently, economically and safely achieved by employing a single U.H.V. flange carrying the required number of feedthroughs which can then be mated to a secure but quick connect/disconnect plug.
For working voltages up to 3.5kV d.c., pin to pin and pin to ground, a compact multi-pin socket is employed based on a monolithic ceramic. This design allows a large number of pins to be accommodated in a small diameter vacuum flange.
Working voltages above 3.5kV up to 10kV d.c. necessitate the use of individual feedthroughs for each pin.
General Specifications


Working Voltage
Up to 3.5kV (multi-pin)Up to 15kV (single-pin)
Bakeout temperature
Up to 450°C (without plug)
Operating temperature
Up to 150°C
Vacuum rating
Better than 1x10-9 mbar litre sec-1
If you are unable to find the plug and socket feedthrough combination you require, please contact our technical staff who will assist you. Multi-pin Feedthroughs is continued on the next page.